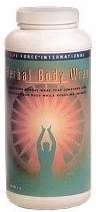 One hour is all it takes to potentially lose inches off your waistline and body. The exclusive Herbal Body Wrap formula is designed to help detoxify and tone your body and skin, and to assist with becoming slimmer as a support to an established weight management program and wellness regime.
Herbal Body Wrap benefits:
Cleansing herbs to detoxify and tone your body and skin.
Proprietary formula of 27 select minerals and herbs, including aloe vera for a warm soothing aromatic experience.
May result in inch loss.
May reduce the appearance of cellulite.
Helps promote healthier skin.
Helps promote the detoxification of the skin.
Helps promote the detoxification of fat cells.
Provides a relaxing and convenient alternative to expensive & painful plastic surgery.
Has been used for over a decade by thousands and thousands of individuals worldwide.
Used and recommended by many healthcare professionals worldwide.
Herbal Body Wrap is a scientifically balanced blend of 27 herbs and minerals enhanced with sea vegetation to promote the body's natural ability to cleanse itself of toxins and also potentially reduce inches by firming and toning the skin. Additionally, the Herbal Body Wrap may promote an elimination of stored toxins. Once released, the toxins are transferred from the body through natural elimination processes. Select herbs and sea vegetation provide nutrients that penetrate cell walls and cause the lipids (fatty materials) inside the cells to be released for expulsion from the body. The fat is then circulated naturally and carried out through the skin and also the normal elimination system of the body, potentially resulting in a natural inch loss result (not just temporary compression or water loss). In fact, many people experience measureable inchloss after even the very first application.
The success of body wraps are not a myth, but they are not widely known. Body wraps have been used for literally thousands of years to help reduce body inches, and to detoxify, cleanse and soothe the skin. Today, more people than ever are taking advantage of the rejuvenating properties of body wraps usually found in expensive salons. Did you know that this quick inch loss program is one of the best kept secrets of many celebrities? So be prepared to explain to others the secret to your potential rapid inch loss and the possible reduction in the appearance of cellulite. In just one hour, as incredible as it may seem, you may find yourself appearing slimmer. These home body wrap products are equivalent to giving yourself a professional European body wrap, but without the huge expense of a salon! By simply doing the program in the comfort of your own home you will save hundreds and hundreds of dollars, as opposed to the same treatment in a salon.
How do you do a Body Wrap?
Select an area where you will have privacy for your wrap. It should be comfortable, as the treatment will take 60 minutes. Mix the contents of the body wrap bottle with one gallon of boiling distilled or purified water. Let it simmer for 15 minutes, and then allow it to cool until it is comfortable to the touch. Submerge the 100% cotton terry cloths into the solution, and then wring them out slightly. Wrap those areas of the body where you would like to shrink the fat cells. Wrap your body in plastic wrap to keep in the body heat. Lie on a lounge chair or bath tub, cover yourself with a blanket for warmth, and relax for 60 minutes. (This is a good time to catch up on that novel, or just take a nap.) At the end of 60 minutes simply remove all wrappings, sponge off the residue with a cool cloth, and dry your body. Then marvel at the leaner, tighter physique you now have! It's that easy... and effective! This process can be repeated again every fourth day to continue the inch loss process. Left over solution can be stored in the refrigerator for up to 10 days. Solution may be frozen in plastic containers indefinetely.
Ingredient Listing:
Alfalfa Leaf, Chickweed Powder, Gentian Root, Yarrow Powder, Comfrey Root, Cornsilk Powder, Capsicum Powder, Garlic Powder, Aloe Vera Concentrate) as well as Burdock Root, Dandelion Root, Echinacea Purpurea, Fennel Seed, Ginger Root, Parsley Leaves, Peppermint Leaves, Papaya Leaves, Red Clover Tops, Bladderwrack, Hawthorn berries, Kelp, Montmorillonite, Passion Flower, Pau D'Arco and Rosehips.
Testimonies:
"Along with a healthy diet and using the Herbal Body Wrap, I lost eleven and on-half inches my very first wrap... I have more energy than ever and I feel so much healthier. My friends saw the results and are using it too!"
- Sherrie Lopez (California)
"After one hour using the Herbal Body Wrap, and in conjunction with my weightloss program, I lost eight and one-half inches! That was fantastic but even better was the way my skin felt after. It was so smooth, it felt like silk, and it gets better each time. I finally got into my favorite party dress that I could not get into before!"
- Evelyn Grossman (Cumming, Georgia)
"I've been faithful to my fitness program, and then when I recently used the Herbal Body Wrap I lost inches right away. It's so exciting and I can't wait to do another wrap!"
- Joy Topaz (Homestead, Florida)
In some cases, Herbal Body Wrap is a natural and convenient alternative to expensive treatments and painful plastic surgery. The Herbal Body Wrap Program comes with a detailed, easy-to-read instruction guide (which contains a measurement chart to document actual inch loss). Also available is an instructional DVD, if you prefer a complete visual demonstration. This 20 minute DVD tutorial visually shows you how to prepare the mixture and how to also properly apply the wrap.
Healthcare Professionals recommended, Herbal Body Wrap is both safe and natural. More importantly, this amazing product has been effectively used by thousands and thousands of customers worldwide - with an incredible success rate.


$19.95 US - Includes: 6 Cloth Wraps
Each wrap is 4' long x 6" wide
100% unbleached terry cloth material
(Note: Towels are a non-refundable item)



$7.50 US
Region 1 (North America) DVD format
(Note: DVDs are a non-refundable item)


---
Click to view shopping cart or check out now through on-line store!

(Click here for alternative ordering methods)
Want to maximize your body cleansing and inch loss results?
Click here to view the Inch-Loss Combo Kit